PCWizKid loves technology and Mvix has the perfect mix of hardware for your multimedia needs in one box. The Mvix 780HD DVI Edition is reviewed in detail for a close look of its capabilities to decode all kinds of audio and video files that are commonly used today on the PC.

The Hi-Definition Wireless Media Center features a built in decoder that brings all the media content from the PC to your TV for example. PCWizKid has TV Shows, Movies and Audio that are using too much space on DVD's CD's and scattered in different areas. What better place to keep it all backed up, but in the Mvix media device.

DivX and Xvid (AVI file extension) are the popular formats used the most for its compression and quality and this is the basis of the review. Instead of playing these files on a DivX/DVD player which is limited to a DVD, put this all on a 1 Terabyte drive inside of the Mvix unit and your set!
Watch PCWizKid's detailed review of the Mvix MX-780HD DVI

Specification
| | |
| --- | --- |
| Security Encryption: | Wireless WEP & WPA-PSK Architecture |
| TV-System Compatibility: | NTSC / PAL / AUTO |
| Standards: | Wireless, LAN, USB-host, USB2.0 |
| Protocol: | 802.1b/g (TCP/IP: DHCP client mode, Manual IP mode) |
| Port LAN: | 10/100 Mbps RJ45 LAN Port |
| Media: | Hi Definition Video Decoding |
| Management Type: | Setup Menu via UI / Remote Control |
| Supported Video Formats: | DivX® (3/4/5/6), AVI, Xvid, MPEG, MPG, VCD(DAT), DVD(VOB, IFO), WMV(WMV-9), ASF(WMV-9), TP, TS, TRP |
| Pixels / Resolution: | 1920 x 1080i (Hi Definition decoding) |
| Supported Audio Formats: | MP3, WMA, AAC, OGG, PCM, AC3, DTS (pass-thru and downmixing) |
| Features: | Attach External USB HDD, flash drive or DVDROM |
| Supported Image Formats: | BMP, JPEG/JPG, PNG |
| A-V OUT Options: | DVI, Component, Composite, S-Video, Optical |
| Screen Aspect Ratio: | 4:3 or 16:9 |
| Subtitle Format Compatibility: | SMI, SRT, SUB |
| HDD Compatibility: | 3.5-inch SATA or IDE PATA, UATA or ATA |
| HDD Format Compatibility: | NTFS or FAT32 |
| PC Requirements: | Windows 98/ME/2K/XP |
| PC Interface: | USB2.0, Wireless or Wired LAN (10/100Mbps) |
| LCD Display: | 128 X 64 mm |
| Power: | AC-DC Adapter 12V, 2.5A |
| Dimensions: | 187mm(w) x 193mm(h) x 58mm(d) or 7.4"(w) x 7.6"(h) x 2.3"(d) |
| Warranty: | 1-yr Manufacturers Warranty on Parts and Labor |
| Package Contents: | Mvix™ Wireless Media Center (MX-780DVI), Remote Control, Stand, 5dBi Wireless Antennae, AC Power Adapter, USB Cable, English Manual and Driver CD |
Conclusion
The MX-780HD did a terrific job with my DivX and Xvid files which would load faster and
display better than my Philips DivX Player and it plays back in HD! The audio quality was exceptional and the clarity and playback was smooth. The on screen menus coul be improved a little so we don't have to click to many times to get to what you want, however the hardware capabilities were never in doubt. This is a solid external hard drive that extends itself by adding capabilities not only for expansion but playback of all major audio and video codecs out there today which I have used in Windows XP and Vista. The best thing is if you have tons of DVD , MP3's and media in general that you want to backup or watch from one place this unit is perfect and suitable for that since it saves a lot of time and hassle.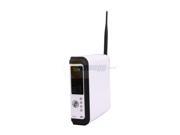 Click here for the latest pricing on the Mvix MX-780HD-DVI Digital Media Box